Award-winning Framingham craft brewery Jack's Abby Brewing teamed up with the Framingham Public Library Foundation for a sold-out fermentable fundraiser for 128 library supporters and craft beer lovers.
On Saturday, December 1 from 7 to 9 p.m., the brewery, located at 81 Morton Street, hosted a guided tasting of its beers and a private tour of the facility. The event helped the Foundation raise money to offset the cost of building a new McAuliffe Branch Library and create an endow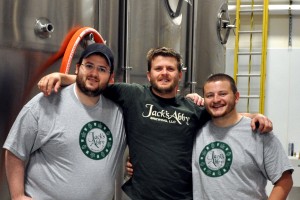 ment fund for other library projects.
The evening featured talks about beer styles and the brewing process by head brewer and co-owner Jack Hendler and MetroWest Daily News beer columnist Norman Miller, author of the book Beer Lover's New England. A portion of the proceeds from brewery products sold the night of the event were donated to the Foundation.
Jack's Abby Brewing was opened in Framingham in 2011 by brothers Eric, Jack, and Sam Hendler, pictured in the photo above, and has rapidly grown and won acclaim for both its beers and community involvement.