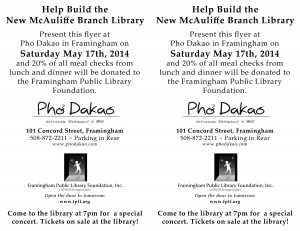 On Saturday, May 17, Pho Dakao, the Vietnamese restaurant that has quickly become one of downtown Framingham's favorite dining destinations, will donate 20% of all lunch and dinner meal checks to the Framingham Public Library Foundation.
Just present a copy of the FPLF Pho Dakao flyer (at left, and pass the other copy on to a friend!) to your server so your good meal goes toward a good cause!
Pho Dakao is located at 101 Concord Street and there is plenty of free parking behind the building.
And consider making an evening of it by attending the benefit classical music concert at the main library at 7:30 p.m. that evening, featuring pianist Shuann Chai and violinist Shunske Sato. Tickets are $25 and still available in advance at both the main library at 49 Lexington Street and the McAuliffe branch at 10 Nicholas Road, or at the door.