The Process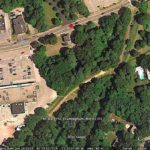 The Library selected Finegold Alexander + Associates Inc of Boston to be its architect and Design Technique, Inc. of Newburyport to be its owner's project manager.
The Trustees issued a request for proposals for library sites and selected a large wooded lot on Water Street, east of the Nobscot Plaza. The site is across from the Hemenway School and Heritage at Framingham, an assisted living facility. Select thumbnail above to see full size image.
The expected opening date for the new McAuliffe Branch Library at this site is February 16. 2016.